What is home appliance insurance on United States?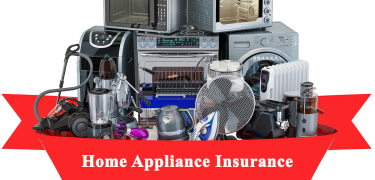 When people purchase a home, sometimes numerous appliances are included as well. Regardless of whether you are purchasing new appliances for your home, or will be utilizing the appliances that are coming with the home, you should know that appliances can wear out over time or breakdown for reasons related to usual wear and tear. Home appliance insurance, which is also referred to as a home appliance warranty plan, helps to cover the cost of maintaining and repairing the appliances in your home. While most insurance plans cover only sudden and unexpected events, appliances that breakdown due to normal use over time can still be expensive to replace. Due to this, many people look into purchasing a home appliance insurance policy.
What Is Home Appliance Insurance?
Home appliance insurance is an insurance plan that covers the costs of replacing and repairing devices, as well as systems in your home, as needed. Standard homeowners insurance plans will cover you for damage or loss from specific perils, but not the breakdown or deterioration of appliances and systems in your home. Each home appliance insurance policy can cover different things, but they generally cover a similar list of items. This can often include plumbing systems, dishwashers, ductwork, washers and dryers, heating systems, water heaters, refrigerators, ovens, sump pumps, lawn sprinklers, septic systems, built-in microwaves, air conditioning, garage door openers, electrical systems, and more.
Free quotes from many home appliance insurance companies can be obtained through this website, helping you find the best prices for home appliance insurance available. Remember when comparing policies to compare everything that is included in each plan. There may be some items included in one home warranty plan that are not included in another. Some companies allow people to customize their plans, while others have a specific list of things that are covered and give a quote based on the appliances and systems in your household.
Home appliance insurance providers usually have multiple packages that are available, each of which covers different numbers of appliances. In many cases, the higher priced plans will cover more items. Some companies do divide coverage up between two different types of plans, often called systems plans and appliances plans. Systems generally refer to things that are spread throughout your house, like plumbing and heating systems. Appliances coverage generally refers to standalone items such as refrigerators, garage door openers, and washers and dryers.
Also remember that there are often different names that companies use for home appliance insurance plans. They can also be called home warranty plans or home repair insurance. The cost of these policies can vary based on the number of items you are looking to get coverage for, the area you live in, the types of items on your insurance plan, and whether you add coverage for more risky appliances. Another consideration when comparing homeowners insurance plans is that some plans do have service fees that are applied each time you seek out repairs. When you do seek out repairs, make sure you are familiar with how the claims process for your home appliance insurance company works.
How Do Home Appliance Insurance Claims Work?
A big part of knowing how the claims process works for your home appliance insurance is to know what your home appliance insurance carrier requires of you to accept the claim. First, make sure you are keeping up with the regular maintenance on all of the covered items. Preventative maintenance on your appliances and systems cannot only help them run more efficiently, but can also make it more likely that your home warranty company accepts your claim.
In addition, instead of calling a repair person directly to come and inspect your appliances and systems, you will want to call your home appliance insurance provider. In many cases they have specific companies and professionals they use to do inspections and repairs. If you attempt to repair items on your own, your home warranty provider might not cover the costs. The same goes for if you utilize someone outside of your insurance companies network. Call your home appliance insurance company for inspections, repairs, and with any questions you have about your policy.
Lastly, be aware that there may be a service fee that is applied each time you seek out repairs. This is often a fixed service fee that you will pay regardless of the extent of the damage itself.
What Do Home Warranty Plans Cover?
Home warranty plans, also called home appliance insurance, covers a long range of items, depending on the policy you purchase. Many companies offer different levels of coverage, with each increased price point covering more items. The best way to save money on home warranty plans is to compare prices from multiple companies. In addition, you should get a home warranty policy that covers the specific home appliances you have. If you do not have, for example, a clothing washer or dryer, or a dishwasher, you may be able to find plans that allow you to choose from a list of appliances and get coverage for those specifically. This can help you save money overall.
Home warranty plans can cover things like plumbing systems, air conditioning systems, refrigerators, ovens, and many other items. Not only will you want to look over with the policies you are considering for what is covered, but you will also want to know the limits of your home warranty plan. Each insurance plan will have an amount that can be covered per item malfunction. Read your policy so that you know what your policy covers, what it excludes, and what the limits are.
With the tools here, you can get free quotes for home warranty plans that are offered in your area. This is the most efficient way to get the best prices for home warranty plans, which can save you money. Having peace of mind that repairs and replacement of your appliances is just a phone call away can lower stress and save you money. Get free quotes on home appliance insurance plans now.