Can you drive in the United States with a G2 license?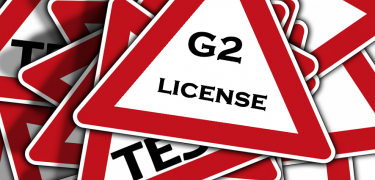 Canada and the United States have an impressive number of shared borders, with over 5,500 miles in total. The border between these two countries is the longest international border in the world between any two countries. Canada and the United States are the world's second and fourth largest countries in terms of area. Along the border, there are many places where people can cross from one country to the other. With there being a lot to see in the United States, citizens of Canada make day trips across the border when it suits their wants. Some people also choose to take longer trips across the border for vacation, to visit family, or for other reasons.
Canadians have multiple different types of driver's licenses and utilize a graduated licensing system. The Ministry of Transportation, also called the MTO in Ontario, has restrictions in place for some of the driver's license levels in the province. Each province can have different rules and restrictions, so make sure to check up on the driver's license restrictions in your area. Two of the types of drivers licenses in Ontario, Canada, are the G1 license and the G2 license. Read on to explore more in-depth about whether or not G2 license drivers can legally drive in the United States using their G2 driver's license.
People with a G1 driver's license can legally drive only in Canada and must have an accompanying licensed driver with them at all times when they do so. Keep in mind that if you are driving outside of Ontario, you are subject to the laws of the jurisdiction you are traveling in, not the laws in Ontario itself. Checking with the proper department or authorities, which take care of licensing, in the state or province you are traveling to, is a crucial part of pre-travel preparations. If you have an Ontario novice license, make sure to verify the legality of using it in the state or province you are going to.
Can You Drive In The United States With A G2 License?
A Canadian novice license is not considered a full driver's license, according to the MTO. Whether or not a class G2 license is accepted as valid in the state or province you are traveling to is dependent on the laws in that state or province. This not only means you should check on whether the license itself is valid, but you should also verify the minimum driving age. It is possible to have a valid driver's license in one state or province while not legally old enough to drive in another province or state.
In many cases, the driver's license restrictions that you have in Canada will also be in place while driving in the United States. Because there are not always exact equivalents, however, contacting the Department of Motor Vehicles in the state you are traveling to will give you the most accurate information about how you will be affected. This is the best way to get the top and most recent information on whether your Canadian G2 driver's license will be accepted. Laws in the United States change over time, and having the latest and most accurate information is essential.
What Do Border States Say About The G2?
Remember that each state has different rules and regulations when it comes to Canadian drivers in their state. For people with G2 Canadian driver's licenses, contacting the Department of Motor Vehicles is vital. In some states, such as Wisconsin, visitors from Canada who will be in the state for less than a year may drive in the state without obtaining a Wisconsin driver's license. They will need to be 16 years of age or older, however. In addition, they must have a driver's license from one of the countries that is part of the United Nations Convention and Road Traffic agreement and the Convention on the Regulation of Inter-American Motor Vehicle Traffic. It does not matter what the visa status of the driver is. Canada is listed, and therefore party to the agreements. Foreign visitors who are not listed will not be able to drive in Wisconsin without meeting additional requirements.
In some states, you will be required to have not only a valid driver's license but also an International Driving Permit. Those who do not may need to attach an English translation to the national driving license. An International Driving Permit is translated into the official languages of the United Nations, which include English. It is designed to be utilized in conjunction with a foreign visitor's valid driving license from their home country. Useful in traffic stops, auto accidents, and other emergencies, especially when a foreign language is involved, it can be a good idea to have one even if it is not required. International Driving Permits are obtained in a person's home country, so people from Canada will need to get one while in Canada if they want to, or need to, have it on them.
In other states, like Michigan, drivers have the same privileges they would if they were in Canada, regardless of whether they hold a G2 license or a G1 license. As always, no matter which state you are traveling to, check with the Department of Motor Vehicles for the latest information on driving with a G2 license from Canada. Also, make sure to verify that you are of legal age to drive in the state you are traveling to.
Make Sure You're Covered By Insurance
It is imperative that you contact the DMV or Department of Motor Vehicles in the state you are traveling to verify that there are not any additional restrictions put on you due to having a G2 license from Canada. In some states, you may not be able to utilize this license at all, and in others, the restrictions are the same as they would be in Canada. The only way to find out is to check with the proper authorities.