Auto Insurance For International Students In The United States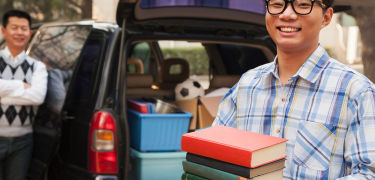 Traveling to another country can be an inspiring experience. If you're planning on going to school in the United States as an exchange student to the University and plan on driving, you will need to purchase a car insurance policy. Fortunately, there are options for international students in the United States when it comes to automobile insurance plans. There are many things that you will need to keep in mind when searching for the best prices for car insurance in the country. Not only that, but you need to be aware of the automobile laws in the state you are traveling to. Each state has different requirements when it comes to car insurance plans, with most requiring bodily injury liability insurance and property liability insurance. Some states require additional types of insurance to be on your plan as well, with some states requiring things like uninsured motorist coverage, UIM coverage, personal injury protection, medical payments coverage, and others. While most states do not require all of these types of insurance coverage plans, most states require a combination of them.
Where To Find Insurance For International Students In The USA
As an international student in the United States, your search for automobile insurance may depend in part on how long you are going to be studying in the country. If you are studying for a longer period of time, you may be able to get a long-term insurance policy. Getting this type of policy has significant benefits, but also requires that you have a home address where the vehicle is being insured. This could be your university campus address in many cases.
If you're planning on being in the country for a shorter period of time, you may need to get a short-term insurance plan. These have benefits as well, although they're sometimes more expensive overall. Not all car insurance providers in the United States offer short-term insurance plans, but many of the larger, more prominent ones do. Regardless of whether you are getting long-term car insurance coverage or short-term car insurance coverage, comparing prices between multiple companies is essential. Each company uses different variables to determine rates, meaning that the price you pay for an insurance policy with one company may be quite different than the amount you would pay with another. The tools here will help you find the best prices for car insurance as an international student.
Getting An International Driver's License
In many cases, a person's foreign driver's license will work in the United States, but it does depend on the state you are going to call your home. In addition to having a valid driver's license, you will likely be required to have an International Driving Permit to drive legally in the US. An International Driving Permit is obtained in your home country and is translated into ten different languages. Keep in mind that this is not a replacement for your driver's license. You must carry both your valid driver's license from your home country and the International Driving Permit (IDP).
In some cases, an international student will not need to get a local driver's license from where they are traveling to. Some states do have time restrictions on how long you can use an International Driving license before having to get a local license though. People who decide to move to the US permanently will be required to get a local license. Also, if a person wants to own a car in the United States of America, know that most US car insurance companies will require them to have a valid US driver's license in order to sell them an auto insurance plan.
Documents You Need To Get Car Driver's License In The U.S.
Having the proper documentation ready is crucial to getting a driver's license in the US. Without submitting the proper paperwork, it will not be possible to get a license. The first step is to figure out if you are eligible. Any F, M, or K nonimmigrant who is in lawful status can apply for a driver's license or ID card.
The next step is to contact your school official designated for international students. They will know the details and requirements of your state. They can also assist you in navigating the process in many cases. Contacting them should be done early on to keep the process as smooth as possible.
The paperwork that is required can vary from one state to the next. Keep in mind that you might not need to get a US driving license in order to drive, an International Driving Permit may be another option. In most states, you will be required to have the following documentation to get a United States driver's license, however:
A valid passport with a visa
Forms I-94 and I-20
Form I-766, also called an EAD card
Form I-797 Notice of Action
A Social Security card or Form SSA-L676 (a refusal to process SNN application)
Proof of legal residence
Getting Auto Insurance For International Students
While some car insurance providers offer insurance plans to international students who have a valid foreign driver's license and International Driving Permit, many do not. You will need to find a company that does, or obtain a US driving license, in order to get insurance. Regardless of which option you choose, get free quotes for car insurance here and compare rates. Auto insurance rates can vary from one company to the next, and the best way to save is to compare policies.